Corporate Philosophy
World-class expertise rising to the challengeFrom extra-high pressure to fine pressure
This small sensor element is at the heart of our pressure sensors.
In 1980 NAGANO KEIKI successfully developed the semiconductor strain gauge pressure sensor based on CVD technology. This lead to substantial growth in Nagano Keiki's pressure sensor business.
Today, our pressure measurement and control products are in high demand as they are essential measuring instruments supporting various industries in Japan and all over the world.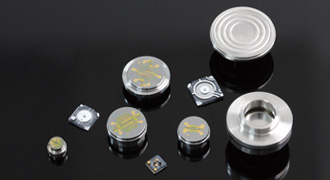 Reliable technologies handed down from person to person
Each of our employees is dedicated to manufacturing high-quality products. This philosophy is handed down from senior staff to all levels of the company. The skills and knowledge of reliable "monozukuri" manufacturing are entrusted to the next generation while constantly seeking further improvement.