Quality Policy
Nagano Keiki delivers world-class quality.
We were the first Japan Calibration Service System-accredited calibration laboratory for pressure measurement in Japan
In 1998, the Ueda Measurement Instrument Plant was registered as the first JCSS-accredited laboratory in Japan for the pressure classification (Accreditation #0080). Nagano Keiki has established a calibration system based on Japanese national standards and is entrusted with JCSS calibration for three types of pressure gauges, namely dead-weight testers, digital pressure gauges, and mechanical pressure gauges. We perform the highest level of calibration accuracy in the nation. Also, we have acquired ILAC-MRA accreditation providing international recognition of our calibration reports.

The company is accredited under JCSS, which uses ISO/IEC 17025 (JIS Q17025) as its accreditation criteria, which is based on the accreditation scheme ISO/IEC 17011. The accreditation body (IA Japan) that operates JCSS is a signatory of the mutual recognition agreement with the Asia Pacific Laboratory Accreditation Cooperation (APLAC) and the International Laboratory Accreditation Conference (ILAC).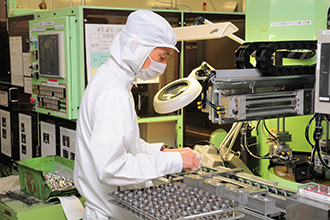 Granted International Standard for Quality Control – ISO9001 and IATF16949 certified.
Ueda Measurement Instrument Plant and Maruko Electronic Equipment Plant have both been granted ISO 9001 certification, testifying our commitment to quality control.
Maruko Electronic Equipment Plant has also acquired IATF16949 - the quality control standard for automotive components.
Within the framework of these management systems Nagano Keiki is committed to the principles of continuous improvement, enhancing quality performance and customer satisfaction in order to achieve our goal of business expansion.
* IATF16949 refers to the international quality management system for the automobile industry.